J Trust's Unique Approach to Banking Business in Southeast Asia Grows in Partnering with Local Economies.
J Trust Group continues to grow with financial and investment businesses both in Japan and in overseas markets.  Its current main overseas markets are South Korea and Southeast Asia.  Nobuyoshi Fujisawa, J Trust Co. Ltd.'s president heading the group, has based himself in Singapore to sift out best investment opportunities.  We have interviewed Mr. Fujisawa on the company's achievements to date, strategies, as well as his outlook on J Trust's overseas businesses.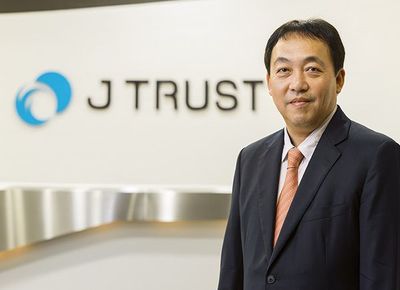 ──J Trust's overseas venture started from the M&A of a South Korean consumer loan company back in 2011.
Fujisawa: Yes, that's right.  This was a strategic move as we sought markets that offered a larger growth potential than our domestic Japanese market.  However, we have let go of that consumer loan company already.  The main drivers of our South Korea business now are savings banks whose business center on individual customers.  It was in 2012 South Koreas' savings banks had already begun to fail, that we started our first bank in South Korea, taking on assets of a bankrupt savings bank.  This is what is currently JT Chinae Savings Bank.  Subsequently in 2015, we acquired the South Korean subsidiaries of Standard Chartered Bank, which have been reborn as JT Savings Bank and JT Capital.
──I am sure you are leveraging your experience and knowledge in Japan to your operations in South Korea.
Fujisawa: J Trust has experienced various loan related businesses in Japan.  We have know-how in credit screening and ability to revive failed financial institutions with strong earning power by building community based businesses.  There may be concerns regarding the possible deterioration of the South Korean economy. However, I believe rigid credit standards and credit monitoring should be able to control irrecoverable debt risks.  The next milestone for our South Korea business is to reach 10 billion Yen in operating revenue, which we target to accomplish in about two years.
Partnering with a Japanese Affiliated Company in Thailand to Create Innovative Businesses in Indonesia.
──And in 2013 you also started operations in Southeast Asia.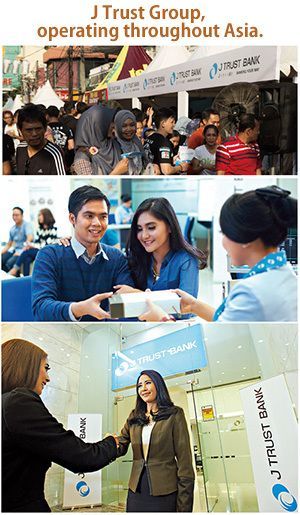 Fujisawa: We have established J Trust Asia (JTA) in Singapore and I am working there myself in order to access information in Southeast Asia and to make the fastest and most timely decisions.  In the beginning we were eyeing to go into the non-bank financing business in Southeast Asia.  However, the Indonesia Deposit Insurance Corporation asked us to take part in an open bidding for a failed bank in 2014 which we were able to win.  This is what is now Bank J Trust Indonesia and is currently in stable operation.
──This year JTA has a new investment project in the pipeline in which Bank J Trust Indonesia is taking part.
Fujisawa: Yes.  JTA and Group Lease, a Japanese owned company listed in the Thai stock exchange, have jointly invested as strategic partners to create PT Group Lease Finance Indonesia (GLFI).  GLFI is licensed for leasing, installment sales, consumer loans, etc. and has first started with installment sales of agricultural equipment.  It will be offering same for solar panels and white goods in the future.  Bank J Trust Indonesia's role is to provide financing for such endeavors.
If the Indonesian people use GLFI's service, farmers will be able to enhance their productivity by using made-in-Japan tractors and people in non-electrified areas will be able to use electronic appliances by solar power.
──Why did J Trust decide to form a partnership with Group Lease?
Fujisawa: Group Lease is a company that has been engaged in the sales of motorcycles and its financing mainly in Thailand.  They have been moving into the Cambodian and Laotian markets in recent years where they are expanding their business into a unique form of digital financing based in minimal sized and function offices using mobile phones.  I personally share belief in how they regard and carry out credit screening as well as their basic business philosophy.  On top of that, the CEO of Group Lease, Mr. Mitsuji Konoshita, is a man bursting with motivation and saying  that "My rival is Jack Ma (China), the founder of Alibaba".  Also looking at what he has achieved in Southeast Asia, I felt that I would be able to grow my business with the company.
Back in May 2015, before starting GLFI, I made an immediate decision for JTA to underwrite convertible bonds worth USD 30 million for Group Lease which was converted to stocks at the end of the same year.  The current stock price is many times higher than that when it was underwritten, summing up to a huge total value by now.  Further, 130 million USD worth of convertible bonds were underwritten again this May, and this means our share holdings is approximately 13% of the total Group Lease shares when including issuable shares.
Banking, a Business that Constitutes the Foundation of Economies, Made Accessible to More Consumers.
──What do you most heavily focus on to succeed in your global businesses?
Fujisawa: We maximally capitalize on the know how we have accumulated in Japan.  However,  Japanese standards are not always successfully applied overseas.  This is something we must always keep in mind. Our South Korean business took off smoothly, but not in Indonesia at the beginning of our operation. The Japanese expertize was not fully understood by Indonesian staff as they were working with a bankrupt bank. So in this case, we changed our mindset in carrying out the revival of the bank's business.  We are now on a good track and are looking at attaining a multi-billion yen size operating revenue within four to five years since the buyout.  This is a surprisingly high pace of growth for a bank.
On the other hand, compliance and morale related rules should follow global standards and shouldn't be created originally.   We strictly reviewed and changed these rules both in South Korea and Indonesia as they were elements that lead to the failure of the banks.
──What possibilities do you see in overseas markets?  Can you also tell us what you envision into the future?
Fujisawa: Southeast Asia still embraces huge opportunities for growth.  Of the many markets in the area, Indonesia has an especially large potential looking at the size of the population and the low average age.  We are starting to understand what is key to successfully running businesses in Indonesia and in greater ASEAN and feel there should be opportunities to start a variety of finance related businesses in the area.
Banking is a business that constitutes the foundation of economies.  We are determined to think out of the box and make services available to larger groups of consumers.  We will also be rolling out services that no other bank has ever offered, such as the installment payments that GLFI is currently offering.
Our business will grow in response to the development of economies of the area.  At the same time, we should realize sufficient revenue in order to contribute to the local societies.  J Trust will actively move our businesses forward along with the developmental stage of economic growth in each country.