Critical voices from investors fuel our next step to growth.
──How do investors and analysts look at your IR?
Chiba: We have been disclosing figures on accumulating loans from banking businesses on a monthly basis and it has been highly recognized by investors for the speed and quality of information as well as fairness of disclosing in both Japanese and English simultaneously.  We were ranked 19th out of approx. 3,600 companies in Nikko IR's Website Quality Ranking for Listed Companies of FY 2015.
We sometimes receive critical comments on our businesses and management at investor meetings.  We take those words seriously and sincerely, share them at our weekly management meetings, and discuss various ideas, being a financial service group that always thinks out of the box.  We always would like to share a single vision with all stakeholders and strive to grow toward it.
──Please tell us your ambitions and aspirations for your IR activities in the future.
Chiba: Last year, our IR team had an opportunity to attend a live lecture on the modality of IR by institutional investors in the US.  We want to reflect such "direct voices" from investors in our future activities.  No matter how large a business we grow into, "Integrity" will always be at the center of our communication with investors.  We want to be open to discussions on how J Trust Group should change along with time, absorb ideas from our investors, and with the support of all stakeholders, work to reach further out beyond our current boundaries.
J Trust Group Offices---operations in Japan and Asia---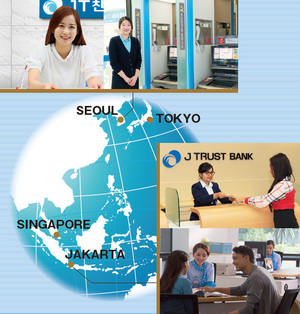 Domestic Financial Business
Nihon Hoshou, a credit guarantee business, collaboration with other financial institutions such as banks, J Trust Card, a credit card company, and Partir Servicer make up J Trust Group's domestic financial business. With these three domestic businesses serving as a foundation of the group's total asset, which has increased to 42 times the size of that in 2008 in 8 years. Funds raised through rights offering amounted to the largest amount in Japan in 2013 at 97.6 billion yen.
Financial Business in South Korea
In 2012, J Trust obtained a local banking license in South Korea and created JT Chinae Savings Bank Co., Ltd. The bank currently has a network of 15 branches and is a leading company in South Korea's savings bank industry, drawing fully upon cutting edge technology such as Internet banking and smartphone banking. Further, in 2015, J Trust acquired Standard Chartered Group's savings bank and lease/ installment finance businesses in South Korea and now run them as JT Savings Bank and JT Capital (lease business) respectively. TA Asset Management, a Servicer, is also part of the group in South Korea, and the total South Korean operating asset has grown seven fold in its first three years.
Financial Business in Southeast Asia
J Trust created J Trust Asia in Singapore as its financial business's first foothold into Southeast Asia. This was followed by acquiring a failed Indonesian bank from the Indonesia Deposit Insurance Corporation and started working on rebuilding it as Bank JTrust Indonesia. The bank currently has a network of 62 branches offering comprehensive financial services including loans for small and medium-sized companies and foreign exchange service. The company is listed on the Indonesia Stock Exchange with a total asset of approximately 13 trillion rupiah (approximately 120 billion yen).
J Trust will be attending Nikkei IR Fair (August 26th & 27th, 2016) at Tokyo Big Sight.
Website: http://ir.adnet.jp/